spray tanning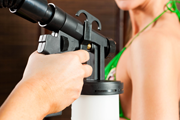 Get a tan without the UV exposure
UV Tanning is not for everyone. That's why at Sun Touch Tanning we introduced the Sunless Airbrush Spray Tanning System. With this special airbrush system you can get a beautiful, natural golden tan without any UV exposure. We offer a variety of solutions to get you the perfect sun kissed glow.
How spray tanning works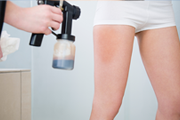 A tanning solution is sprayed on the body by a certified technician. The tanning solution contains an active ingredient DHA (dihydroxyacetone) that reacts to amino acids in the top layer of the skin. DHA is the only self-tanning ingredient approved for safe use by the FDA. Cosmetic bronzers are added to the solution for instant color, while the "tan" will develop over 2-4 hours once the application is complete.
Tan results will vary from one to two shades darker, depending on skin tone. A onetime spray tan application will usually last up to 4 days. When a second application is done within 48 hours, your sunless tan will be extended to last an additional 5-7 days. To maintain an airbrush spray tan, this process should be repeated once a week.
GUIDELINES: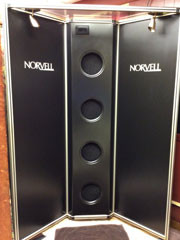 For optimum results, we recommend that you follow these simple guidelines:
- Shower and exfoliate your skin prior to your appointment.
- Skin should be completely dry before an application. DO NOT use lotions, deodorant, make-up or perfumes.
- Waxing and shaving should be done prior to your application.
- Dark, loose clothing should be worn. During your application, you may choose to wear a dark colored bathing suit or undergarments. Disposable undergarments are available.
- For maximum results, we recommend that you DO NOT shower for at least 6-8 hours after your application. Please refrain from getting wet, exercising, and perspiring within this time frame.
CARING FOR YOUR SUNLESS TAN:
- We recommend a hydrating body wash when showering. DO NOT use washcloths or loofah sponges.
- After your post-tan shower, apply moisturizer at least twice a day to lock in and extend color. DO NOT use lotions that contain Mineral Oil. Mineral Oil is very harmful to sunless tans and will extract the color from the skin.
- Consider Amber Sun products for optimum results. Purchase a home maintenance kit and receive a FREE spray tan.
Prices & Packages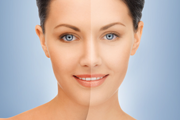 CLASSIC
-
1 to 2 shades of lift
- Full: $28
- Upper: $18
- Legs: $12
DARK
-
2 to 3 shades of lift
- Full: $34
- Upper: $24
- Legs: $18
DOUBLE DARK
-
high level of left
- Full: $38
- Upper: $28
- Legs: $22
EXPRESS
-
develops in 1 to 3 hours
- Full: $38
- Upper: $28
- Legs: $22
ORGANIC
-
2 to 3 shades of lift
100% Vegan**Gluten & Nut Allergen Free
- Full: $40
- Upper: $32
- Legs: $28
ENHANCEMENT APPLICATIONS:
$5.00 OFF
Must be done within 72 hours of 1st application
1 Month Unlimited
$98
(2 Sprays per Week)
- 3 Sprays $72
- 6 Sprays $132
***Packages expire 1 year from purchase
VIP GOLD CARD PROGRAM:
Purchase 10 sprays, get 1 FREE
Want to have a spray tan party? Give us a call today and find out more!
781-356-0106